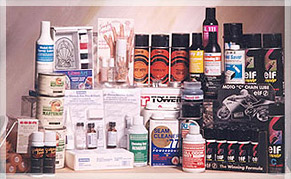 WHAT IS A CONTRACT PACKAGER?
We fill your liquid product into the container and application of your choice. Our contract packager services are available for any liquid products and our clients represent these industries:

We have been providing our contract packager services to satisfied customers all over the world for more than 50 years, during that time, we have mastered the science and art of product development, production, and packaging. We give our customers personalized attention.

Our attention to detail includes:

Assisting you with determining the best container for your product
Assisting you in deciding an application
Designing the packaging, including silk screening the package
Filling the containers with your product
Delivering the product on time
PRODUCT DEVELOPMENT AND MANUFACTURING
Our contract packager services can manufacture a product with your proprietary formula, or develop a product exclusively to meet your unique needs.
VOLUME
We can produce your product in any volume.
FILLING NEEDS
We can fill aerosol containers that only hold 1 ounce or containers that can hold up to 24 ounces.
LIQUID FILLING SERVICES
We can fill to a size as low as 1 gram or as large as 1 gallon. We provide a variety of household and industrial liquid filling services. Our liquid filling services can handle any liquid for packaging.
PROPELLENTS USED
We offer the following propellants to be used in our aerosol packaging: Carbon dioxide, nitrous oxide, 134A, DME, and various hydrocarbons
BARRIER PACKAGING
We offer the following types of barrier packaging: ABS system, which uses nitrogen compression in an inflatable bag Excel/Atmos, which using no chemical propellant to provide balloon compression
NON AEROSOL PRODUCT PACKAGING
Pumps
Pour cans
Cans
Jars
LABELING
We can design and produce labels for your product's container using paper, or pressure sensitive, or sleeve labels, as well as in-house screen printing methods.
POINT-OF-PURCHASE PACKAGING SERVICES
We also offer blistering and clamshell packaging. Our clamshell packaging is sturdy but easy to open. We have clamshell packaging in a number of different sizes. Our blister packaging is secure but not difficult to open. Various shapes are used in our blister packaging.